Had been wanting to change the template for God knows how many days. Didn't really want to go for the sample templates that blogger gives. After much and much experimentation, I'm finally satisfied with the results. Its again in my favourite pink, but I feel this is much softer and sober. That background pink was sorta gaudy and had started to grate on my nerves :-D I haven't created my own template, just modified Dan's pink Thisaway (Rose) into what I wanted :-D. Believe me, it took a LOT of modifications :) But it was fun :)

Ok Just to have a comparision here's the BEFORE look and feel: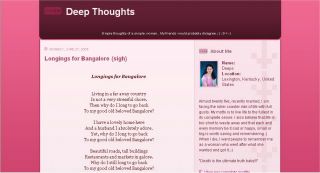 Though the current one is the AFTER look, I'm uploading a photo anyways (who knows I might change it again tomorrow :-D):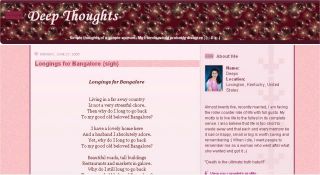 I also changed the blog name. Again Deep Thoughts is good, but just felt like a change. Dip-tea is what one of my close friends Ranjini used to call me. Am stealing the idea from her and copy-righting it ;-)

Its as if changing the blog look has brought a fresh outlook to me :) Its really strange, but life's not so dull anymore :) I feel a lot more cheerful and happy. I sure am weird ;-)

So, how is the change? Feels lotsa better na? What d'ya say?